Leave the hustle and bustle of the workday behind when you enter the peaceful serenity of Lake Arrowhead. Whether you want to spend more time together as a family, experience the great outdoors, or retire among newfound friends, the legacy of leisure is here at Lake Arrowhead. Take a few minutes to explore our site and discover why Lake Arrowhead is the ultimate family outdoor recreation area in Southern California.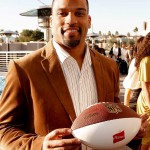 Robert Griffith, former NFL Safety and Parkinson-Group client, listed his property in Lake Arrowhead.
Click here
to see his Biography and property information in the Los Angeles Times.